sweater weather is evil
Posted on 2005.10.08 at 12:10
As you may or may not know, I'm heading back to Iowa for Christmas this year. Not just that, but I'm spending
two weeks
there. My mother guilted me into it, though I still might see if I can change my plane tickets and make it just one week. I really don't like Iowa in the winter. I'm the girl who likes to sit in the sun when it's 105 outside. I think I was a lizard in a past life or something. The cold just kills me.
So I'm
bribing
rewarding myself by knitting some cool winter clothes.
First, the
Mariah cardigan
from Knitty.
From left to right, the pieces are the left sleeve, about an inch of the left front, the back, the right front, and then the right sleeve. Once the left front is finished, I'll join them all at the shoulders and knit the yoke in one piece. I don't think I'm going to make the hood since I doubt I'll use it. Plus, I'll need the extra yarn that would have gone to the hood because I made the ribbing two inches longer than called for (I've got a long torso) and I might add on button bands if I can't figure out how to sew in a zipper.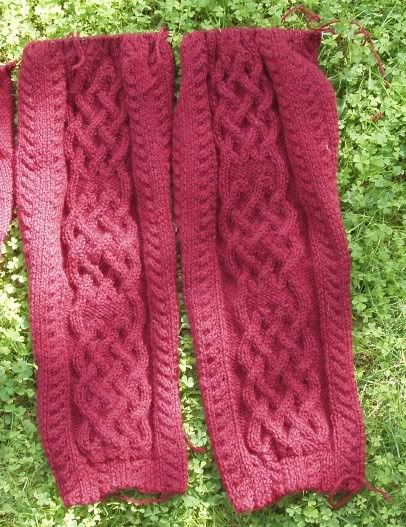 The sleeves. I was nervous since I'd never cabled before, but the sleeves were actually a lot of fun and not as hard as I thought they would be. The yarn is Cascade 220, color #4008, which is a burgundy heather that has flecks of violet in it when you see it in the sun.
I was worried that I wouldn't get the sweater done in time for December, but I'm not worried about that anymore. I'll probably get it done this month, even if I do slack on it a little bit (which I've been doing--a lot). I don't know if I should make another sweater after I'm finished with this one, or if I should do something else. There are only so many pairs of mittens a girl needs. Although...I could make a pair that look like puppets and put google eyes and yarn hair on them. Then I could amuse myself when I get bored and scare the people around me.