Kureyon mittens
Posted on 2005.08.17 at 00:16
Current Mood:
accomplished
Current Music: The Dead Zone on DVD
Continuing my stash busting, I broke out a great book,
The Knitter's Handy Book of Patterns
. If, like me, you like making things using your own yarn, gauge, and stitch pattern, this book can be a lot of fun. I had two skeins of Noro Kureyon in colorway
#148
. I did a quick gauge swatch, then started on a pair of
mittens.
And, yes, I'm aware that I don't need mittens in Arizona, but I am going back to Iowa for Christmas, where I
will
need mittens. Plus, I just like making mittens. They're quick (especially when you knit at 5 sts/in like with these), and knitting stuff in the round on double pointed needles makes me feel like a badass.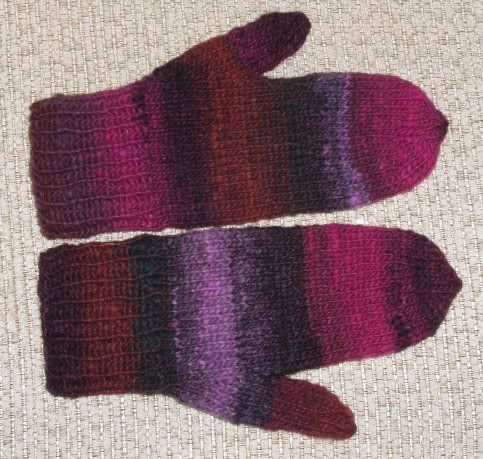 You only need about one skein of yarn to make the mittens, but I used two so I could control the colorway. I pulled out a big hunk of gray and green yarn that I just didn't like so that more pink and purple stood out.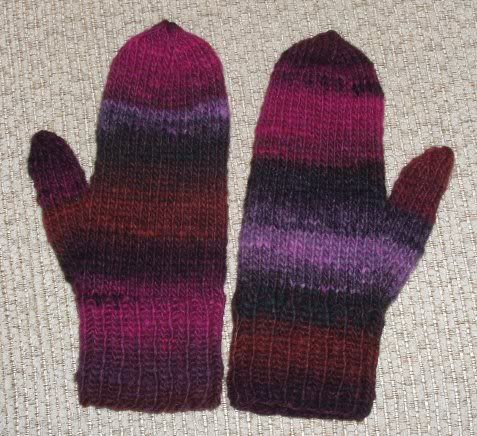 I suppose I also could have started at the same color repeat so that the stripes matched exactly, but part of the reason I like Kuryeon is the random appearance of the stripes that complements the unrefined spin of the yarn.